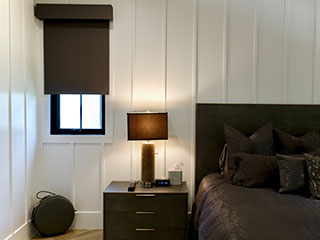 Covering windows requires fitting the treatments to the room's requirements. In places like kitchens and living rooms, you may want to go for sunlight diffusion, thus you'll choose sheer shades or draperies with various elegant styles. For bedrooms, offices, and other areas where you want privacy, blackout blinds can provide an optimal solution. Choosing to go with blackout window coverings lets you control completely how much sunlight passes through. For bedroom windows, blackout blinds matter a great deal. They help you gain better sleep at night and also protect your privacy. This applies to offices as well. For free estimates on blackout blinds, the Walnut Creek team can help. Remember, you've got all sorts of possibilities with these room darkening window treatments. We'd love to help you consider them all to ensure you get the best bang for your buck.
Blackout Blinds For My Walnut Creek Bedroom?
Yes, these sorts of room darkening window treatments can make for fantastic covering solutions for any dormitories and sleeping areas. You need to make sure you get the best sleep possible, as it affects your mood and health. With a set of custom made blackout blinds, you make sure no sunlight wakes you up too early, or light from outside streetlamps keeps you from falling asleep. Blackout blinds block light completely, leaving no room for even the smallest slivers to pass between the vanes. This also creates a sense of privacy, as no light also means no visibility. Many Walnut Creek bedrooms get blackout blinds installed for these optimal reasons. You can, of course, choose to have room darkening blackout window coverings made for other areas.
Office Blinds, Blackout & Privacy
While most people don't sleep in their offices (or try not to fall asleep, anyway) blackout blinds have a lot to offer here as well. The overlapping vanes of these blackout window treatments let no light enter when they close. That also means no one on the other side of the window can peer inside. For privacy in your Walnut Creek office, custom blackout blinds provide perhaps the most effective solution. You can get them made from different materials, and in different designs. So there's no compromise made in favor of utility. Blackout blinds can still add a nice touch of décor to your office while providing this very functional privacy feature.
Motorized Blackout Window Treatments
Here we enter the somewhat luxurious realm of automation and blinds motorization. After all, blackout blinds make for great covering solutions. But if you have to walk over and close or open them each time, it becomes annoying. Lying in bed, all cozy, then suddenly remembering you didn't close the blinds isn't a fun experience. Neither is waking up in the morning and having to get up to open them. Well, worry not. There's an excellent solution. Motorized blackout blinds offer all the same benefits, with the addition of automation and remote control. Click on the remote and the motorized blackout blinds will respond. You won't even have to get up. Looking to see samples and learn about different options? Get help from top motorized blackout blinds installers near Walnut Creek! Contact us today to book a free in-person estimate.