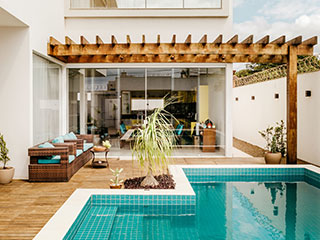 Getting proper protection while outdoors is crucial, as exposure to UV radiation from the sun can be very dangerous. Not to mention, sitting in the sweltering heat and under the blazing ball of fire in the sky can be incredibly unpleasant. That's why we offer Walnut Creek motorized patio covers that can extend or retract to suit your needs perfectly. With additional motorized awnings and custom made pergola canopies and screens, you ensure your protection and also add beautiful looks to your outdoor spaces.
Awnings – Motorized or Not?
The benefit gained by adding awnings to your Walnut Creek patio space or to pool deck areas is great. You get more shade without having to take up more space on the ground. But should you get motorized awnings or are manual ones enough? It comes down to convenience and durability. Motorized awnings offer you the maximal amount of comfort, as you can simply push a button and have them extend or go back to cover or open the sky up. Awnings add coverage to the patio and significantly enhance its utility as well as overall aesthetic.
Choosing Pergola Screens and Motorized Canopies
Many people choose to add outdoor shade structures to their patio area or backyard space. These can be gazebos with lovely designs, or even 'simpler' additions like pergolas. Proper shades and covers for these outdoor shade structures will enhance their look but also their ability to protect you from the sun. Motorized pergola canopies are great options for having more options and easily adding or retracting shade. Pergola screens also offer such enhancement, making privacy and protection more effective.
Choosing Motorized Covers For Walnut Creek Patios
One of the reasons why so many customers keep coming back to us is the free estimates and consultations we provide before placing an order. With advice and recommendations from our Walnut Creek patio cover solutions experts, you get all the information you need to find the best option and the features to go with it. Find out about different motorized awnings, canopies, and covering solutions by booking an appointment for a no-cost estimate today.