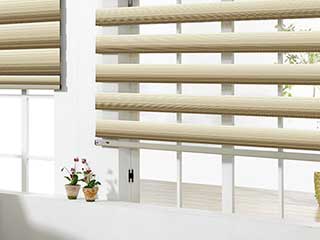 No denying that wood has beautiful textures that can bring a lot to the interior décor of most rooms. Walnut Creek Blinds & Shades provides fantastic faux wood window blinds for all office and home needs. Our products come with total customization options that let you choose every little detail. From the color of your faux wood blinds to the size of vanes, there's no element that you can't alter to your needs. You can even add finishing touches like tape, or opt for motorized faux wooden blinds that bring even greater convenience. Our custom imitation wood blinds can make for a great investment for many Walnut Creek businesses and homes. It's all about getting your specific needs covered, as well as the windows…
How We Build Faux Wood Blinds
All of our faux wood window blinds are constructed to meet our high standards for quality. That means we only use high-quality materials like PVC and vinyl, among other materials that will stand the test of time. Because these materials aren't susceptible to moisture damage, you can clean our wood-texture blinds with ease. That means no more worrying about special products that won't damage the texture. Unlike traditional wood, our range of imitation wood blinds doesn't require constant maintenance and won't rot or begin to warp due to humid conditions. That means you can count on your faux wood blinds to look as great in ten years as they do when they're first installed. It's important for blinds to stay durable and flexible to prevent breaking. With the right choice of materials, you can maintain a wood-like décor without worrying about accidental damage.
Best Prices On Blackout Blinds From Faux Wood
Although faux wood blinds are opaque, most window treatments are designed with some space between the vanes. However, we do offer specialized blinds with overlapping vanes. These blackout faux wood window blinds are perfect for cutting out unwanted natural light. Because they eliminate light spillage, you can be certain that no-one's able to see into your property. Equally, if you need to darken the room you can do so, no matter how bright it is outside. This range of faux wood window treatments is available with our full range of customization options, so you can get really beautiful-looking products that totally protect your property. Getting blackout blinds installed in bedrooms, for example, lets you make full use of this feature. You can stay asleep throughout the day and maintain your privacy from the outside world.
Motorized Blinds In Walnut Creek – Faux Wood Treatments
Perhaps one of the best ways to upgrade your property is with the addition of high-quality motorized window treatments. You can add motorization to many of our faux wood window blinds, enabling you to easily adjust their position with little more than the press of a button. In fact, with smartphone integration, it's possible to control your faux wood blinds wherever you are. Of course, you'll still get access to our amazing custom design options, allowing you to create tasteful imitation wood blinds that also boast cutting-edge modern technology. All these advantages come at a market-beating rate, too. By installing Wi-Fi motorized blinds in your Walnut Creek home or commercial office, you can truly benefit from the latest innovation of automatic window shading. Remote control over blinds lets you dictate exactly how much sunlight streams inside at all times.
Custom Faux Wood Blinds Made-to-Measure
Looking to make big improvements to a home, office or any other property, without spending a lot? Then Walnut Creek Blinds & Shades can help. Our specialized range of high-quality wood grain texture blinds brings all the beauty of timber to your interior decor without any of the drawbacks. You can see our products in person when you schedule a free consultation at your Walnut Creek residence or anywhere nearby in the bay area. Get in touch with us anytime via the emailing system on this website or our service hotline for scheduling appointments. Remember, we offer a free consultation with no obligation. So it costs you nothing to have a blinds installation expert meet you to provide any info you want.