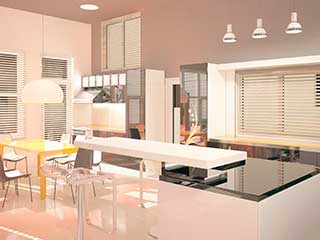 Does your Walnut Creek home or office windows need a fresh look, but you're not sure where to start? New Venetian window blinds could be what you need to spruce things up! We have a variety of styles, and with our free consultations, you'll have no trouble finding the right match. Each set of Venetian blinds and other window treatments we make will have a custom fit. Meaning they'll suit your windows, skylights, glass doors or any other surface area perfectly. Venetian blinds come in many different materials to fit all sorts of décors. Read more to learn about some of their customizable features and designs.
Top Quality Motorized Venetian Blinds
Why continue to deal with manual strings on your blinds that get tangled, and can leave them crooked? Pointless. Especially when you can have them motorized Venetian blinds instead. Rather than deal with unsightly strings, you can instead open or close them with your smartphone! This is especially helpful for homes with kids or pets that may mess with the strings, as it leaves you in total control. It also serves to make things easier! Putting your baby down to sleep? Just press a button and your motorized Venetian blinds will quietly close right away. It's that simple!
Blackout Venetian Blinds For Walnut Creek Homes
Blackout Venetian window blinds can serve you in many ways, from darkening the bedroom completely to sleep easier, to turning your living room into a movie theater right in your home. These room darkening blinds will completely keep out any light from outside, with not even a slight glow coming through to bother you. There won't be any worry of gaps where light could leak through either. Your blackout Venetian blinds will be made exactly to the measurements of your windows! Whether you want to sleep uninterrupted, or have no glare on your TV, this style of window treatments can offer you a lot.
Beautiful Wood or Faux Wood Blinds
If your concern is more with gorgeous aesthetic, and you seek to impress, Walnut Creek Blinds & Shades has what you're looking for! Wood Venetian blinds are sure to create a classy and lovely look in any area, from the dining room to the front room. Our selection of wood staining will also assure that they complement the space without issue. Not looking forward to the maintenance that real wood requires? Faux wood Venetian blinds are what you need! You get the same excellent look but without the upkeep.
Metal Venetian Blinds & More
Whatever your window covering needs may be, we have the right fit for them! Metal Venetian blinds may not be the prettiest, but they are the most affordable if you have budget concerns. Aluminum is sturdy and will last for a long time, while also being less expensive than some other materials. Do you prefer simple clean up? Then vinyl or PVC Venetian blinds would do the trick! We're here to help you find the right set of window treatments for any nearby property in the San Francisco area. Give us a call, book a free estimate, and see the incredible selection of blinds you can choose for your Walnut Creek business or home.