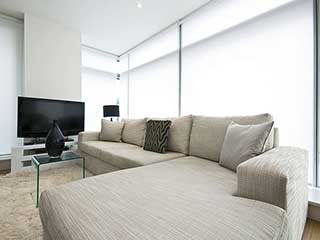 Not too long ago, motorized window coverings were a luxury. Nowadays, with the advent of smart technologies, motorized blinds with remote control capability are a great boon to home and workplace management! If you live around Walnut Creek, you have access to some of the most diverse motorized window treatment options in the Bay Area, at rock bottom prices. Call us today, and you can get started toward owning a set of brand new custom motorized blinds!
All About Motorized Window Treatments
Almost any sort of blinds, shades, or curtains is automatable. Motorized vertical blinds cover glass doors and lounge windows, their electric openers saving wear and tear over the often clumsy corded versions. Motorized blackout blinds can provide the most reliable sunlight protection possible, if you connect them to some Somfy sunlight sensors or Lutron smart controls. Modern remote controlled blinds are at your command even when you're across the world! On a less ambitious note, motorized blinds are more convenient, less time consuming to adjust, and much safer for children without any hanging cords.
Custom Motorized Blinds Design And Production
Walnut Creek Blinds & Shades's specialty is motorized window coverings made for each specific customer's needs and preferences. Our expert designers are available for free consultation appointments and estimates. Call us any time during the workweek, and you can set up an appointment at any address in the general Walnut Creek area just to see if we can help! Everything from the motorized blinds' style and color, to their control systems and programming, is at your discretion. We just help you make an informed decision and recommend the more fitting motorized blinds options for your needs, decoration scheme, and budget. From motorized Venetian blinds to remote controlled roller shades, we can make them!
Motorized Blinds Installed In Walnut Creek And Nearby
An order from Walnut Creek Blinds & Shades includes packaged delivery and installation services. Our team will install any tracks, rollers, and supports needed, and connect the motorized blinds to your electrical system. This also includes installation and Wi-Fi connection. If you ordered remote controlled blinds, then handset and app connectivity is also part of our job! But before everything, there first comes the free consultation. We offer our free estimates with no obligation on your part. Consult with our specialists on motorized blinds for your business or home, and then decide if you want to place an order.
Motorized Blinds With Remote Controls
Here we come to the biggest advantage motorized blinds have in modern times. If you use Alexa, Google Home, or any other home management application, your motorized window treatments can be part of that system. Motorized blackout blinds that read the weather report and adjust themselves as needed? We can set those up, or just connect them to one of our Lutron photosensor systems. Motorized vertical blinds that close to hide your rooms' contents when the streets outside are busy? Even easier!
Go Wild With Custom Window Treatment Motorized
Window coverings come in so many different flavors, and you can motorize almost all of them! Have a shallow window frame with some space above it? Try motorized roller shades. With our Somfy fabric options, you can have insulating, blackout, or glare-deflecting materials for your set. Motorized roller shades also give you endless options with color, design, and embroidery or other embellishments. Don't have room below the ceiling? Motorized Venetian blinds fit entirely within the frame, and take up only slightly more room. There's always good, solid framed blinds as well, which we can install on either side of the windowpane. Or door pane, if you're getting motorized vertical blinds for a wider entrance!
Walnut Creek's Best Electric Smart Blinds
Choose automatic window blinds that connect to your Wi-Fi and use your smartphone as the remote. Do away with misplacing the small handset when your phone is with you all the time. Get motorized blinds with special sensors that adjust themselves according to how bright or hot it gets. We've got a fantastic range of choices to offer you, with designs to suit all types of décors. Give Walnut Creek Blinds & Shades a call to arrange for a free estimate at your local home or office address.