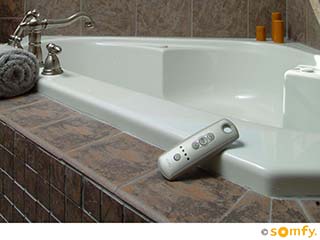 Selecting motorized blinds or shades to cover your windows or outdoor areas provides plenty of ways to control sunlight diffusion. High-quality Somfy motorized blinds integrate easily into your smart home and work with your climate and lighting systems. WiFi connectivity allows you to link motorized blinds into your home effortlessly and start benefiting from energy efficiency in your property. Switch between light and dark, warm and cool, with nothing more than a press of a switch or a tap on your phone. Find the look and style that works for you from our extensive range of great-looking Somfy motorized blinds in Walnut Creek, with the help of our experts.
Motorized Blinds With A Classic Look
Motorized Venetian blinds are a favorite with Walnut Creek property owners. These window coverings are ideal for office spaces and for residential properties. Their classic looks fit well with a huge range of different decor styles, and motorized Venetian blinds are a great addition to any room. Somfy blinds are the perfect way to enhance a classic design with modern technology and remote control. Add in sensors for temperature and brightness, and you have a 21st-century update to a classic design.
Motorized Rolling Shutters
A great way to cover up large window walls, rolling shutters with Somfy smart motorization offer a fantastic look when they're closed. Using a wall switch or remote handset you can swiftly change the shutter positions to let in as much sun as you want, suiting your property perfectly. The durable materials that are used in Somfy rolling shutters also provide you with a high degree of security.
Outdoor Shading From Somfy
A quick and easy way to provide shade for patios, pergolas, and decks, motorized shades are the best option when you want convenience and style in one great package. Somfy motorized shades are popular because they're incredibly versatile, with a range that includes motorized awnings, pergola screens, and other forms of outdoor shade solutions. These give you an easy way to protect people from UV radiation while they're outside, allowing you to get the most use out of your outdoor areas thanks to Somfy's smart shade solutions.
Top Somfy Blinds Installers In Walnut Creek
We will help you pick out the best motorized blinds, shades, or shutters for your property, thanks to our free personal consultations. We give you hands-on advice and an easy way to access the enormous range of motorized shading solutions we provide. Discover the best way to upgrade your Walnut Creek home with a free estimate on cost-efficient Somfy motorized blinds!