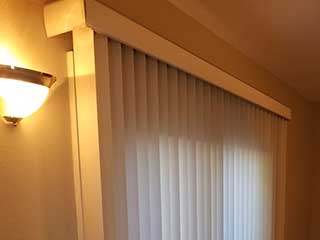 Most blinds sets have a frame that slides up and down, and panels that stretch across the window lengthwise. Vertical blinds are the opposite, with side-to-side frames or drawcords, and panels that run from the top of the window frame to the bottom. This type of vertical window treatment fills a niche that few others can, and here in Walnut Creek you can get them cheaper than ever! Vertical blinds offer an optimal covering choice for French doors, window walls, and other large areas. With them, you can add décor and functional sunlight control to your office or home.
When Do You Need Vertical Blinds?
Any time that you want to put blinds over a window, and the window in question is longer than it is tall, you'll need these. Vertical blinds for picture windows, wall-length windows, and other elongated frames work where the usual style of blinds would be structurally infeasible. You can also protect your living room or office by putting vertical blinds on sliding glass doors. This works well for patio entrances, balconies, and French doors, protecting the room inside without getting in the way.
Vertical Blinds For Glass Doors And Window Walls
An extra benefit of the vertical window treatment style, in addition to fitting large window and door frames, is the selective cover they provide. Since vertical blinds shut out all light when the panels are rotated shut, and the frame moves sideways, you can adjust to shade parts of the room. With vertical blinds for your office windows, for instance, you can shade the computer screens or seating areas while letting in sunlight elsewhere. If you have a living room or gallery full of valuable fabric items, you can keep the UV rays off of the sensitive area alone. This is a big help with glass doors that open into living or bedrooms as well! Just let us add another set of tracks along a sliding door or window's, and our blinds are compatible!
Customize Your Vertical Blinds With Different Options
Our custom made vertical window treatments suit each buyer. In addition to fitting the vertical blinds to your window or door frames, we have a load of other options for you to choose from! Internal mounting, or external? You can choose framed panels or hanging ones. Choose from materials like vinyl, wood, and aluminum for your vertical blinds, and any color or pattern you can think of. To get a more decorative and flexible treatment, try combining our vertical blinds with curtains or sheer coverings, also available in our custom flavors!
Wi-Fi Enabled Motorized Vertical Blinds
Aside from the design and decoration options above, you can also choose to have your vertical blinds installation include an electric motor and controls. Automating window treatments and door covers lets you easily control indoor brightness throughout the day. Motorized vertical blinds aren't just more convenient and less effort-intensive than the old fashioned kind. Surprising though it might be, they can also save you money! Order your new motorized vertical blinds with a timer, and you'll never have to worry about remembering to adjust the blinds every day and night. Get a sunlight sensor, and they'll even adapt to the weather on their own! Over the years, your savings in heating, air conditioning, and furniture or wallpaper bills can pay it off and then some!
How To Get Started
Make an appointment and we'll send a vertical blinds expert to meet you at any address in the Walnut Creek area. We offer free estimates on all our shading products, and you can get production, delivery, and installation as one inexpensive service package. Get blackout vertical blinds for office spaces or residential properties custom made in the style and materials you like best. Call to book a free estimate and find out more about the different options.