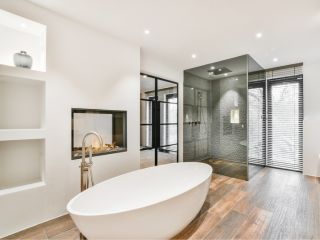 Do you value privacy in your home but don't like the look of curtains? If so, you're in luck – there are many other window treatments available that can provide the privacy you need without the need for curtains. Here are some tips and tricks to help you achieve window privacy without curtains:
Blinds
Blinds are a popular choice for achieving window privacy without curtains. They come in many different materials, such as wood, faux wood, and aluminum, and offer varying levels of privacy depending on the type and style you choose. For example, vertical blinds are a great option for sliding glass doors, while horizontal blinds are perfect for smaller windows.
Shades
Shades are another option for window privacy without curtains. There are many different types of shades available, including roller shades, cellular shades, and Roman shades. Many shades are available in light-filtering or blackout materials, so you can choose the level of privacy that works best for you.
Frosted Glass Film
Frosted glass film is a popular option for achieving window privacy in bathrooms and other areas where you don't want people to be able to see in. This film adheres to the window and creates a frosted appearance, while still allowing light to pass through.
Woven Wooden Roman Shades
Woven wooden Roman shades are a stylish option for achieving window privacy without curtains. These shades are made of natural materials and offer a unique, textured look that can complement a variety of decor styles.
Layered Window Coverings
If you want to achieve maximum privacy, consider layering different window coverings. For example, you could pair blinds with drapes or shades with a valance. This can create a stylish, layered look while also providing the privacy you need.
If you're unsure which option is best for your home, consider contacting a professional window treatment company like Walnut Creek Blinds & Shades. Our team can help you choose the right window coverings for your needs and provide expert installation services to ensure they look and function perfectly.