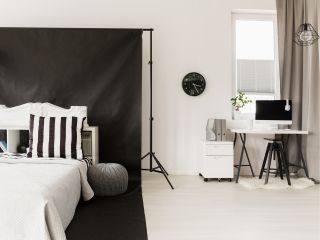 When it comes to your bedroom, privacy and light control are essential. The right window covering can help you achieve both, while also adding style to your space. With so many options available, it can be difficult to know where to start. Here are the top 5 window coverings to consider for your bedroom:
Blackout Shades
If you're a light sleeper or live in an area with streetlights or early morning sunlight, blackout shades are the perfect solution. These shades are designed to block out light completely, making your bedroom a dark and peaceful retreat. They also offer privacy, as they prevent anyone from seeing inside your bedroom.
Plantation Shutters
Plantation shutters are a classic and elegant option for bedroom window coverings. They offer great light control and privacy, and can be adjusted to let in just the right amount of natural light. They also provide insulation, which can help regulate the temperature in your bedroom.
Roller Shades
Roller shades are a versatile option for bedrooms. They come in a range of materials, including blackout options, and can be customized to fit your windows perfectly. They offer good privacy and light control, and can be adjusted with ease.
Cellular Shades
Cellular shades are a great choice if you're looking for energy efficiency. They trap air in their cells, which helps regulate the temperature in your bedroom. They also offer good privacy and light control, and come in a variety of colors and styles.
Sheer Curtains
Sheer curtains are a light and airy option for bedrooms. They allow natural light to filter through, while also providing some privacy. They're also a great way to add a touch of softness and style to your bedroom decor.

No matter which window covering you choose, professional installation is key to achieving the look and function you want. At Walnut Creek Blinds & Shades, we offer top-quality installation services to ensure your window coverings look and function their best. Contact us today to schedule your consultation and get started on creating the perfect bedroom retreat.